Love Eating And Drinking in Lagos? Try These Restaurants In Lagos Mainland
We've tried and tested some very good restaurants in Lagos mainland for the very best cuts of steak, snacks, continental and local dishes. Here are the results of some fine yummy eateries in the heart of Lagos. 
Labule Restaurant
Labule means 'in the village' in Yoruba language. Have you ever been so tired to cook your native food? Labule Restaurant is the place to visit because they serve basically local dishes. The whole concept of this restaurant is for you to eat that Iya Basira food but in a traditional contemporary setting. On the menu you will see recipes ranging from Amala and Ewedu, Ewa Agoyin, Pap and Akara, Beans and Bread, Kunu and Zobo drink just to mention a few. It is the best place to get posh local food. They offer delivery services to neighboring areas such as Ogudu, Ojota, Anthony, Ilupeju, Maryland and Ikeja.
They are open every day from 9AM – 9PM
Labule Restaurant is located at 42a Ogudu Road, Ogudu GRA, Lagos.
Customers can call in for orders on 0809 142 4457. Their food is ON POINT! I have eaten there times without number.
Yellow Chilli Restaurant and Bar
Yellow Chilli is a trendy restaurant in the heart of Ikeja. The restaurant offers Nigerian delicious and ethnic with an extensive range of gourmet meals and local spicy foods such as pepper soup, spicy stewed snails, seafood Okra and Prawn made with fresh ingredients with lots of herbs. Their Jollof Fiesta is a delectable dish to die for. Ordering is easy, as guests are given menus to order and there are waiters waiting to get your orders.
Visit: Yellow Chilli
Opens 12:00 pm to midnight  (Everyday).
Location: 35, Joel Ogunaike Street, Ikeja, Lagos.
Browns Cafe & Restaurant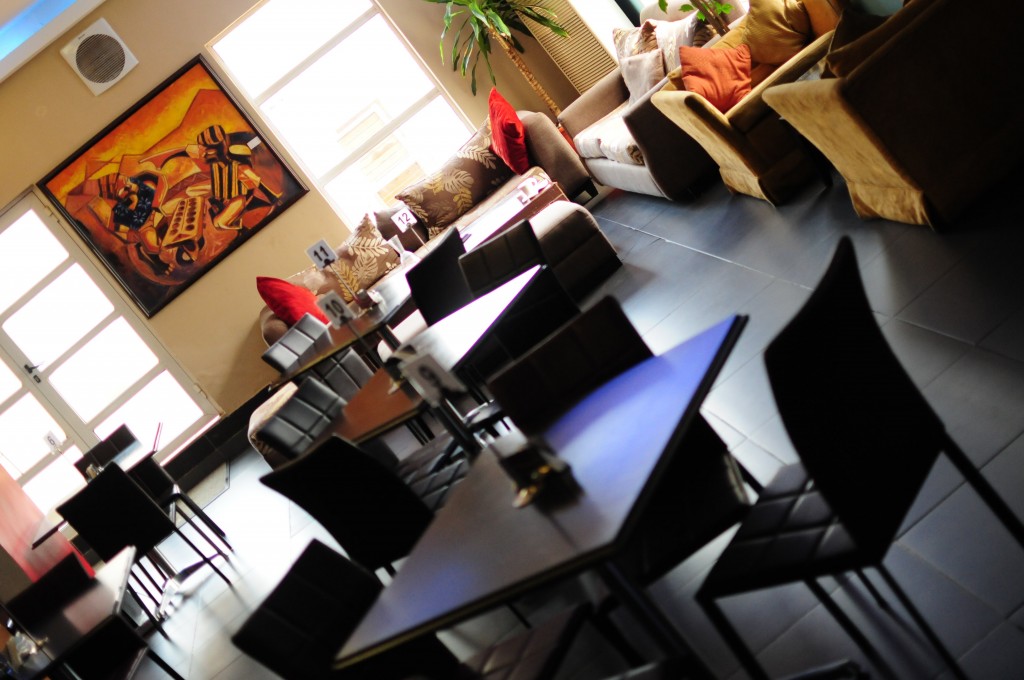 If you are looking for a reason why food scene in Lagos Mainland is one of the most exciting things in Lagos, you should visit Brown's Café and Restaurant. The restaurant is popularly known as "Browns" and it is noted for its breakfast menu called 'Naija Breakfast' and Browns Platter. Browns foods and drinks are freshly prepared with flavourful ingredients. They serve a variety of Nigerian dishes and gourmet delight.
Visit: Browns Cafe and Restaurant
Opens 9.00am to 10.00pm everyday
Location: 15 Oduduwa Crescent, Ikeja GRA.
Rhapsody's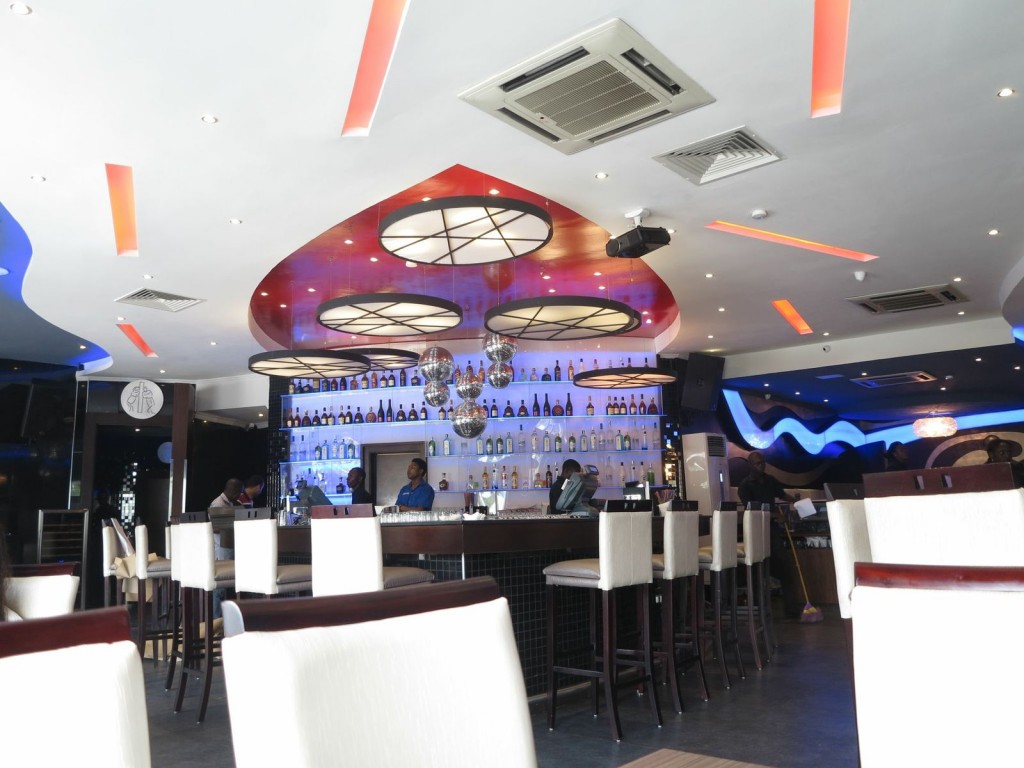 Dinning at Rhapsody's is an event because of its beautiful setting, classic interior, comfortable atmosphere and thoughtfully prepared foods. The restaurant offers a la carte selections and you can unleash your appetite with a multi-course feast with salads and appetizers. You should try their signature dish – Chicken Espetada, grilled deboned chicken thighs skewered with spicy jalapenos and chilli sauce topped with garlic butter. This restaurant will sate your appetite with their delicious meals.
Visit: Rhapsody's
Location: Address: Ikeja City Mall, 176/194 Obafemi Awolowo way, Alausa Ikeja, Lagos
Bheerhugz
Have you seen a cafe that is always lively at all time of the day? Bheerhugz Cafe it is. This cafe is always active with lots of happy people. At Bheerhugz Cafe you will find variety of tasty meals such as chicken soup, pork grills, peppered snails and Nigerian delicacies. They also store exotic list of imported wines and cocktails.
Bheerhugz is located at upper floor of Ikeja City Mall, Alausa.
Rodizzio
   
When you visit Rodizzio, you catch a glimpse of Nigerian food scene and how delicious they can be when you taste them. Rodizzio is known for their signature meals – Jambalaya rice, unlimited BBQ and platters. You can choose from a wide range of meals, including seafood and desserts. The buffet menu is simply the best of the bunch.
Visit: Rodizzio
Location: 29, Isaac John Street, G.R.A. Ikeja, Lagos, Nigeria OR Call: +234 701 000 8000 , +234 703 030 1548  +234 703 004 4414
Domino's Pizza
Domino Pizza serves delicious pizza in Ikeja. The restaurant offers a broad dine-in menu as well as take-away menu, you can easily order for pizza and have it delivered in your home. Their menu is one of the great dinning deals you can ever find around Lagos mainland, featuring a variety or Pizzas with flavourable sauce. You can also order for their Garlic Bread Sticks, Chicken wings and spicy Chicken Kickers. The restaurant is always bubbling because people can not do without their Domino's pizza.
Domino's Pizza is location at Joel Ogunnaike Street, G.R.A., Ikeja
Opens Sun-Wed: 9am-10pm; Thur: 10am-12midnight; Fri & Sat: 9am-12midnight
 La Mango
La Mango takes pleasure in its various local and continental menu. On the menu you will see food from around the world from our indigenous delicacies, American burgers to Malaysian Fried Rice. Eat lunch or dinner at La Mango and you will always remember the experience . You get to enjoy delicious meal in a great serenity.
La Mango Restaurant and Bar is perfectly situated at 3a Adekunle Fajuyi Way, off (and very near to) Mobolaji Bank Anthony Way,  GRA,  Ikeja.
It has adequate parking both inside the premises and outside.
You can mail them at  info@lamangolagos.com or lamangolagos1@gmail.com or Call 0808 264 6670
Pool Terrace
The beauty of this restaurant can make you get filled. Pool Terrace Restaurant and Bar gives you this blend of music, food and fun. They deliver excellent food in a sparkling environment. All you need do to enjoy a yummy delicacies, is to sit and order from the menu a la carte. I bet you will surely have a nice time with their live music.
Pool Terrace  is located at Sheraton Lagos Hotel, 30 Mobolaji Bank Anthony Way, Airport Rd · Ikeja, Lagos  ·
Telephone : (+234) (1) 28100100
Do you agree with the choices? Lets hear your experience. Tell us about those cool restaurants in Lagos, email info@bellafricana.com