Top 10 African Football Stars in The World Today (2018)
Great football players over the years have been produced from Africa who have gone on to tantalize the world. With African football greats; Didier Drogba, Jay-Jay Okocha, Samuel Eto'o etc.. having delivered and entertained with the best of football skills, and soft footwork touches while also achieving great feats. We cannot but appreciate and showcase some of these top players that have made our year (2018) and continent stand out so far.

 When I started compiling this list based on the online ratings and attributes, I almost included names such as; Kante, Pogba, Lukaku etc.. (lol), who although of African origin play for countries of their birth.
Winning trophies and marking territories, playing for Europe's elite clubs, here is our list of the top 10 African football stars in the world today;
10.  Victor Wanyama 
A player of Kenyan origin, who currently plays for Tottenhan Hotspurs footballl club in the UK, is a distinguished and solid  defensive midfielder in the English Premier League. Truly representing as Kenya's captain, is a key team member of his club where his ability to break through opposition attacks and quickly covert it to an offensive opportunity for his team has earned him a starting role in their first team.


9. Serge Aurier
Who moved to Tottenham Hotspurs from PSG in France, and is also a teammate of Victor Wanyama, is from Cote d'ivoire. Since joining the English club has made his mark as a strong right back player, constantly terrorizing opponents and creating great opportunities for his team.


8. Hakim Ziyech
Representing Morocco and playing for Ajax football club in the Netherlands, one of the best teams in the country with a rich history. Ziyech is an attacking midfielder skilled in the ability of taking goal-bound set pieces. Might not be a familiar name, but his performance is one that has awoken the interest of Europe's elite clubs.



7. Eric Bailly
A solid center-back that joined Manchester United in the summer transfer season of 2016 from Villareal in Spain, raised many doubts after his transfer but has since silenced the crowd. A fine defender, with great ability to win aerial balls and keep a good marking of his territory is from Cote d'ivoire.


6. Riyad Mahrez
Mahrez from Algeria, made headlines with his great runs and dribbles which split top defenses and created countless goal scoring opportunities that  were gladly converted by his front pair in person of Jamie Vardy at Leicester City football club in England. His input eventually lead his team to win their first ever premier league trophy in the 2015-2016 season. Recently transferred to Manchester City this summer, the winger has already aided his current team in winning the prestigious 'Community Shield' cup.


5.  Kalidou Koulibaly
The Senegalese who plays for Napoli in Italy, was part of the team who came close to overthrowing Juventus' 7 year dominance in the Italian league. A great defender with the ability to interpret the game and make impacts combined with his versatility in adapting to his role.


4. Naby Keita
Is a central midfielder who recently transferred from Leipzig in Germany to Liverpool, he's a great box-to-box player whose debut season was a success and triggered the interest of his current coach in the 2016-2017 season when he stood out in the team which finished second to Bayern Munich in the Bundesliga race. The Guinean is quite a skilled player who would still keep on rising through the ranks certainly.


3. Pierre-Emerick Aubameyang
The Gabon international, who converted 10 goals in 13 matches on moving to Arsenal in January, was the leading talisman before his transfer from Borussia Dortmund in the Bundesliga. A crafty player, creative and quite fast, although went through some transfer saga, is one of the stars of Africa this year, make sure to watch out for his acrobatic jubilation when he scores.


2. Sadio Mane
The Senegalese is a mean, tough, fast and clinical forward player. His ability to keep the ball and create chances for teammates is a skill that has made him highly rated and sought after. Having had a brilliant season with his club Liverpool shattering records, and with the Senegalese team thrilling the world at the recent world cup in Russia, it's no surprise he sits pretty at the second position on this list.



1. Mohammed Salah
Rumor has it that the Egyptian, has a name that is more popular than that of his president. LOL! Mohammed Salah's first stint in the premier league didn't yield much then when he starred for Chelsea. Having been loaned out to As Roma in Italy, Salah's fame rose with his ability to change game play running in from the wing and scoring great goals. His great pace and dribbles earned him constant comparisons with the likes of Messi. He transferred to Liverpool in the 2017-2018 season shattering the premier league goal scoring record of 31 goals in a single season, and netting a total of 32 goals. It's no surprise he won the African footballer of the year award for the year 2017, and also individual accolades concurrently at his current club Liverpool. His great form and abilities guided his team to a captivating Champions League final, which they eventually lost to Real Madrid but which showcased a climax of such a great season. It's no surprise he's at the top of the chart.



This is my 'one-of-a-kind' funky dance (below) each time I remember that the football season officially starts today with the kick-off of the English Premier League. Bye-Bye boring Tv weekends! :p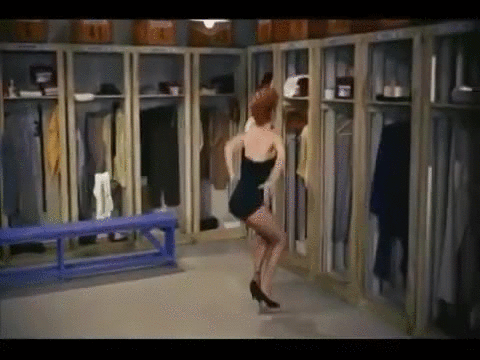 Make sure to follow our instagram page and enage with us @bell_africana